Discover The Mysteries Beneath Grand Amnis; RUINSMAGUS: COMPLETE Is Now Available For The PlayStation®VR2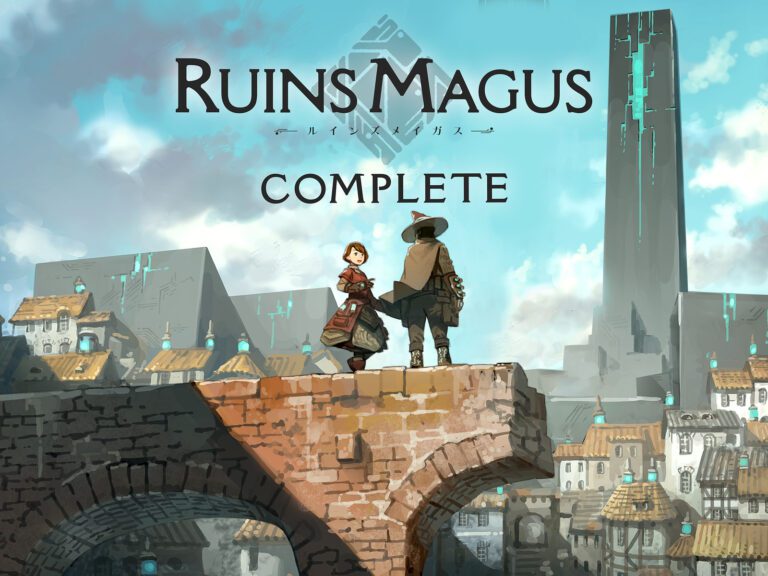 RUINSMAGUS: COMPLETE includes all of the previous DLCs along with new features that utilize the unique capabilities of PS VR2
San Francisco, Calif. (Sept. 19, 2023) – Video game publisher Mastiff, in collaboration with video game publisher and developer CharacterBank Inc., is pleased to announce that RUINSMAGUS: COMPLETE is now available for PlayStation®VR2 on the PlayStation®5 computer entertainment system from Sony. RUINSMAGUS will transport players to the magical world of Grand Amnis to uncover the secrets, battle Guardians, and solve deadly puzzles as
they strengthen the renowned RUINSMAGUS Guild in a truly immersive VR experience.
RUINSMAGUS: COMPLETE includes new PlayStation®VR2 exclusive features like HMD rumble, enhanced 3D audio, and PlayStation® Share compatibility! It is also content-complete, loaded with all previously released updates and downloadable content (DLC). This includes the recently released "Remix Update," which adds optional full English voiceover support, updated translations, and, per fan request, remixed late-game dungeons for a fresh gameplay experience!
About RUINSMAGUS:
RUINSMAGUS sets out on a quest to redefine the action RPG genre with a beautiful, anime-inspired fantasy world brought to life through immersive VR mechanics and engaging VR controls. An engrossing narrative, a heartwarming musical score, and professional voice acting add to the game's depth—making RUINSMAGUS a genuinely magical experience.
Solve the Mysteries of the Ruins
Welcome to the prestigious RUINSMAGUS Guild! As a new guild member, your mission is to strengthen the guild with your magic, resources, and wisdom. Cast and blink your way through a stunning fantasy world across more than 25 story-driven quests and explore the ruins beneath the city of Grand Amnis. Overcome deadly puzzles to uncover valuable artifacts. Master 16 powerful spells and use them to defeat rivals and guardians who protect the ruins. Survivors who are clever and agile enough to overcome the ruins can return to the surface, procure new items, and upgrade their equipment to increase their chances of success.
Are you ready to face the challenges ahead and emerge victorious?
PS VR2 Key Features
Complete the Magic

– One convenient bundle that includes the main game and DLC, The Warrior and the Tailor, plus full English and original Japanese voice-over with English Subtitles.

Feel The Magic

– Experience an enhanced level of immersion with updated vibration patterns and new HMD rumble.

Hear the Magic

– Thanks to enhanced 3D audio, RUINSMAGUS has never sounded more alive.

Unlock the Magic

– RUINSMAGUS now features Trophy support, allowing players to showcase their prowess and strive for greatness by unlocking the prestigious Platinum Trophy.

Share the Magic

– With the in-game camera, Magi can effortlessly capture their exciting and action-packed adventures and share them with the world using PlayStation Share.
For more information on RUINSMAGUS, please visit ruinsmagus.com and join the conversation on Twitter at https://twitter.com/CharacterBankEN

Mastiff is a publisher of video games on all platforms. Founded in 2002 with headquarters in San Francisco and Tokyo, the company has released titles in virtually every genre – including action, adventure, RPG, FPS, party, horror, and music. To learn more about Mastiff, please visit https://mastiff-games.com.
CharacterBank Inc. strives to create innovative and memorable Extended Reality (XR) experiences. Located in the heart of Kyoto, CharacterBank Inc. blends traditional craftsmanship with cutting-edge technology to continually surprise and delight players all around the world. CharacterBank Inc. was founded in 2019 by Shuto Mikami. To learn more about CharacterBank Inc., please visit https://character-bank.com/.
©2023 Sony Interactive Entertainment LLC."PlayStation Family Mark", "PlayStation", "PS5 logo", "PS5", "PS4 logo", "PS4", "PS VR2", "PlayStation Shapes Logo" and "Play Has No Limits" are registered trademarks or trademarks of Sony Interactive Entertainment Inc.

RUINSMAGUS ©2022-2023 CharacterBank Inc. Published by CharacterBank Inc., and co-published under license by Mastiff. All rights reserved.